Business Analyst vs. Data Analyst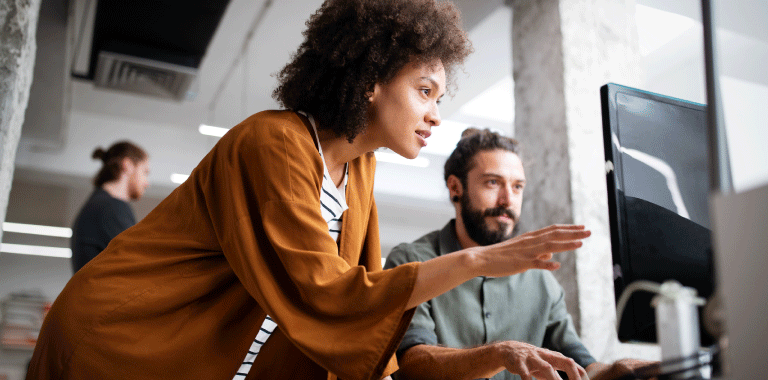 In any company, the business strategy is typically navigated by a team of experts. A data analyst may review data to find their company's profits are diminishing based on the current sales process while a business analyst would make recommendations on how to reduce costs and make changes for more efficiency.
People in both roles make significant contributions to the organization and are an integral part of ensuring that teams communicate effectively to improve the business.
What Is the Difference Between a Business Analyst and Data Analyst?
Business analysts are tasked with considering the big picture. They make decisions and recommendations based on their high-level perspective to improve the direction of the business while consulting with people on the ground. Data analysts spend more time understanding the connection between smaller pieces of information and what they mean for different systems within the business.
While some hiring companies may use these titles interchangeably or to describe similar roles, a closer comparison of business analyst vs. data analyst job descriptions reveals the differences between educational backgrounds, technical skills, and daily tasks that are necessary for each job.
When considering a career as a business analyst or data analyst, take inventory of your professional goals, talents, and experience to decide which career path is right for you.
What Does a Business Analyst Do?
Business analysts, sometimes called management analysts, use their skills and expertise to support companies or organizations in various industries such as tech, healthcare, human resources, commercial real estate, consulting, financial services, and more. In any of these fields, business analysts may conduct research and report findings to help organizations improve efficiency and profitability and to set them up to scale.
On a day-to-day level, business analysts may complete a wide variety of tasks using their problem-solving and analytical skills for the benefit of their team or company as a whole. Business analyst responsibilities include:
Reviewing business processes and systems.
Evaluating the use of key performance indicators and other metrics.
Documenting changes and improvements to the workflow.
Assessing priorities and business needs for the company.
Identifying opportunities for efficiency, growth, and profitability.
Communicating with multiple teams and stakeholders about findings.
Working with data analysts to understand new information about the business.
Forecasting the financial needs and costs of doing business.
No matter what industry they work in, business analysts will likely collaborate with team members who have different skills, needs, and roles to streamline business processes.
What Does a Data Analyst Do?
Data analysts use their technical skills to extract insights from data and intelligence systems to help make recommendations for a business or organization. They support companies by connecting strategic goals with the information they have about customers and other stakeholders. Because their responsibilities vary from one company to another, their job titles might differ too. According to the U.S. Bureau of Labor Statistics (BLS), operations research analysts perform the following duties, which overlap with data analyst responsibilities:
Using moderate math and statistical skills to review data sets and identify patterns.
Visualizing patterns and information to share with others.
Communicating findings with their team and other stakeholders.
Developing and keeping track of key performance indicators.
Strategizing about how to use the insights from the data.
Collaborating with data scientists to identify opportunities for further analysis.
Utilizing moderate coding and computer science skills to work with data.
Documenting and presenting data findings to people in less technical roles.
Data analysts are key players in the efficiency and strategy of an organization. They work with teams of other employees—such as business analysts—to optimize the functioning of a business.
Business Analyst vs. Data Analyst: Education Requirements
Entry-level positions for those interested in business analytics (and related fields) often require a bachelor's degree, according to occupational data curated by the BLS. But more competitive environments and jobs that include managerial or supervisory work may prefer candidates with master's degrees. Master's programs offer advanced courses to learn technical and managerial skills such as business intelligence, reporting software, and cutting-edge programming skills.
Every professional's journey is unique. While some people may have either a technical or business background, pursuing higher education and graduate degrees may equip you with useful skills for work as a business analyst or data analyst.
Business Analyst Requirements
Business analyst degree requirements often include a bachelor's degree in the field of business, finance, economics, or another relevant field. But some aspiring business analysts aim to enter the field at a managerial level (perhaps with a background in a less technical role). In such cases, these candidates might complete a master's in business analytics program to be eligible for competitive opportunities that require a graduate degree.
Pepperdine Graziadio Business School's online master's degree program in business analytics can be completed in as few as 12 months and includes courses that teach students applicable skills and behaviors that translate to the working world, such as:
Advanced Statistical Tools
Management of Databases
Predictive Analytics and Simulation Modeling
Applying Analytics to Achieve Business Impact
Communications and Marketing Informatics
Social Media Analytics
Business Process Analysis and Innovation
A business analyst education allows students to gain a complex understanding of data systems and learn how to translate information into actionable insights that can be used by people without technical backgrounds.
For professionals who want to pursue a career in a specialized field such as healthcare, property development, or education, it may be necessary to pursue additional education relevant to that industry.
Data Analyst Requirements
A number of data analysts enter the field with a strong background in math, statistics, computer science, or computer programming—and rightly so. Those pursuing data analyst roles typically earn a minimum of a bachelor's degree in a STEM field or related area, according to the BLS. Working professionals with only a moderate STEM background may find it necessary to pursue a master's in data science when considering competitive work environments or specific roles.
Data analyst education requirements comprise a range of technical skills and proficiency in computer programming, similar to data scientist roles. Here are some areas students might cover:
Computer programming languages
Data visualization and design
Data mining and cleaning
Relational database management
Statistical modeling and analysis
Machine learning
Cloud computing and deep learning
While some analysts work at the contributor level, data analyst education for professionals at the managerial level may call for more than a bachelor's degree. Candidates considering advanced career paths in the field may want to plan to complete a master's degree program in data science or data analytics, as well as relevant certifications for their desired role.
Business Analyst vs. Data Analyst: Skills
Business analysts use their communication and problem-solving skills to tell a story about an organizational issue using the insights identified by the data analysts on their team. While they might work together on the same projects or issues, the difference between a business analyst and data analyst lies in their focus and the scope of the insights they're creating. Data analysts provide insights from the bottom up while business analysts use that information to take a top-down approach for making changes within the organization.
Together, they use a unique combination of their technical and analytical skills to push the business or company forward.
Business Analyst Skills
Business analyst skills include a variety of competencies learned in higher education programs as well as daily tasks.
Competencies and technical skills required for business analysts will vary by employer but could include:
Understanding statistical analysis software used by their organization.
Proficiency in computer programming skills.
Business intelligence and an ability to report key performance indicators.
Data mining and visualization of complex information.
Analytical problem-solving.
Effective communication with groups of people.
Creative and innovative thinking.
Leadership qualities for working with teams.
Understanding of systems engineering concepts.
Delivering detail-oriented, highly accurate information.
Business analyst qualifications or job titles will also vary depending on your chosen industry, but, in general, professionals can expect to dedicate their time to identifying key insights and recommending ways to improve the business across various departments. They might work with large teams to do this and in fast-paced environments.
Data Analyst Skills
Data analyst skills include a variety of technical qualifications and proficiencies that professionals can learn through higher education and work experience.
The level of technical proficiency required may vary by employer and industry. According to LinkedIn Talent Solutions, a Harvard Business Review article on data analysts, and a Forbes article detailing top data analyst skills, some common data analyst qualifications include:
Understanding of statistical methods and models for research.
Proficiency with programming languages such as R or SAS.
Data mining and visualization.
Database design, administration, and systems programming.
Quantitative analysis and numeracy skills.
Machine learning techniques and languages.
Communication and collaboration with team members.
Subject matter expertise of chosen industry or field.
Creative and innovative thinking.
Analytical and critical problem-solving.
Many data analysts who work at the contributor level use these technical skills on a daily basis. Analysts with managerial duties may be expected to have a strong proficiency in communicating the finished product and findings to team members who have less technical backgrounds or to external stakeholders and clients.
Business Analyst vs. Data Analyst: Salary
When considering business analyst vs. data analyst salary, know that earning potential is usually dependent on factors such as location, employer, years of experience, and more. Both professionals can work on a full-time basis and may even work more than 40 hours per week.
A key difference between business analysts vs. data analysts is that while there are fewer data analytics positions available, the expected growth of data analyst jobs is more than twice that of business analyst jobs over the next 10 years.
Before deciding to pursue one career field, examine more detailed differences between business analyst and data analyst salaries and job outlooks.
Business Analyst Salary
Similar to management analysts, business analysts entering the job market have a variety of opportunities to find work with competitive pay and professional development opportunities.
The median annual business analyst salary was $87,660 in 2020 , according to BLS, but it varies slightly based on the field or industry of work:
Professional, scientific, and technical services: $93,710
Management of companies and enterprises: $87,230
Finance and insurance: $86,690
Government: $83,500
There were 876,300 business analyst jobs available in 2019, but the BLS projects that number will grow by 11% from 2019 to 2029, meaning there will be more opportunities for prospective students and graduates to enter the workforce over the next decade.
Data Analyst Salary
Data analysts—also referred to as operations research analysts—have similar compensation and prospects to business analysts. The median data analyst salary was $86,200 in 2020, which is slightly less than business analysts. However, the data analyst salary range is much greater, depending on the industry of work as well as educational experience or technical background required.
Federal government: $119,720
Manufacturing: $94,340
Management of companies and enterprises: $91,000
Finance and insurance: $86,280
Professional, scientific, and technical services: $85,950
The availability of data analyst jobs is a fraction of the business analyst job outlook, but data analyst jobs are expected to grow by 25% by 2029, much faster than the average for all occupations. Individuals with a master's degree or higher in a related discipline, as well as those with solid business experience and strong analytical skills, are likely to have the best job prospects, according to the BLS.
Should You Become a Business Analyst or Data Analyst?
When considering the difference between business analyst and data analyst roles, it's important to think about the day-to-day work you'd like to be doing, in addition to the skills you already have. Do you prefer working on detail-oriented projects and solving problems? Or, would you rather be a part of creating the big picture for a company? Take time to reflect on your talents, values, and experience to decide which field you may be best suited for.
Whether you choose a career in business analytics vs. data analytics, it's likely that you'll have opportunities to collaborate with other team members at your organization as your skills and duties may complement each other. People in both fields often work together to help each other solve complex problems that make a difference to the company and forge new paths in the world of business.
Considering a career in business analytics? Learn more about the online business analytics degree from the Pepperdine Graziadio Business School. Those who prefer to attend in-person classes can complete their Master of Science in Business Analytics at the Malibu campus.