Earn Your LLM Online: Master of Laws in Dispute Resolution
From Pepperdine Caruso School of Law's Top-Ranked Straus Institute
Ranked #1 in Dispute Resolution by U.S. News & World Report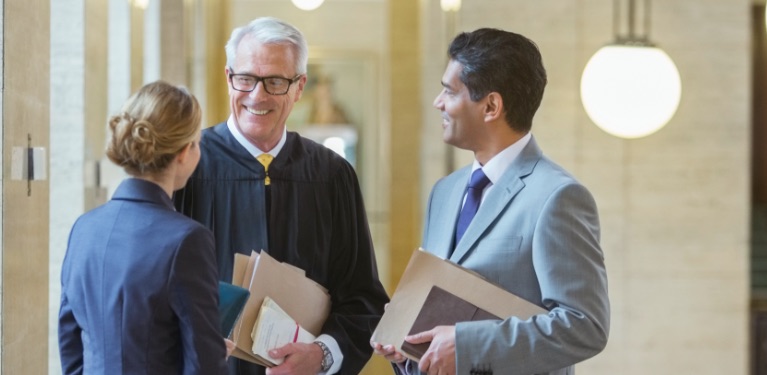 A Premier Program in Dispute Resolution
The online Master of Laws (LLM) in Dispute Resolution program empowers lawyers around the globe to be a driving force in solving the most pressing conflicts of today. Delivered by Pepperdine Caruso School of Law's top-ranked,1 ABA-accredited Straus Institute, the program prepares attorneys with the specialization they need to become successful mediators between people, organizations, and policymakers.
In addition to gaining a deep knowledge of arbitration and negotiation, students learn the root causes of conflict, both on an individual and global level. In as few as 12 months, students graduate ready to positively effect change and solve disputes in their communities and the world at large.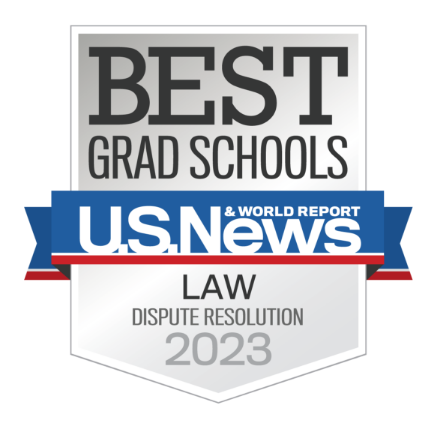 A JD or first professional degree in law is required to apply.
Jump to:
Admissions Process
LLM Curriculum
Outcomes
Request Info
Why Earn an LLM in Dispute Resolution Online?
Attorneys who earn an LLM in Dispute Resolution are equipped to solve problems and facilitate peaceful negotiation between parties without having to set foot in a courtroom. These skills are especially beneficial in today's world, where conflict is common but can often be solved without litigation.
Through in-depth exploration of arbitration, negotiation, and mediation theory and practice, this online LLM degree will help you pursue a career advocating for your clients as you seek to find a middle ground.
Application and Admissions Process
Pepperdine Caruso School of Law's online Master of Laws in Dispute Resolution program offers multiple start dates throughout the year.
Students who apply by the priority deadline for their intended cohort will be granted an application fee waiver and receive an earlier decision, allowing them to register for classes sooner. Priority deadline applicants should contact an admissions counselor at 844-707-9208 or email us at admissions@onlinelaw.pepperdine.edu to receive the waiver before submitting an application.
The final deadline for the May 2024 cohort is March 1, 2024.
Application Requirements
US applicants must have a JD degree from an ABA-accredited university, and international applicants must have the first degree in law required for law practice in their country. Pepperdine Caruso School of Law does not require GMAT or GRE scores.
Candidates must submit the following materials to be considered for admission:
Online application with a fee of $50
Transcripts
One letter of recommendation
Resume
Video interview
Domestic applicants only: All US applicants must submit their JD class rank or a document from their school indicating they do not issue class ranks.
International applicants only: All international applicants must submit evaluated transcripts and confirmation of their English fluency through a TOEFL or IETLS score. Applicants can request a Skype interview in lieu of submitting a score.
Learn more about application requirements.
Tuition and Financial Aid
An LLM program requires an investment of time and finances, but many resources exist to help students offset the cost of tuition, such as employer financial assistance, scholarships, and loan programs. Tuition is charged per unit hour for a total of 26 units.
Propel Your Law Career Forward
Sharpen your mediation and negotiation skills with Pepperdine's online Master of Laws in Dispute Resolution.
Access Your Application
Now is the time. Advance your career with Pepperdine. Take the next step today.
Jump to:
Admissions Process
LLM Curriculum
Outcomes
Request Info
Highly Regarded Curriculum
Pepperdine Caruso School of Law's online LLM program is one of the first of its kind in the US. The LLM curriculum is taught by the same distinguished faculty who teach our on-campus program, and it examines the legal, psychological, and cultural factors that affect conflict and complex negotiations.
You can complete the 26-unit program on a 12- or 24-month track, and you'll have the flexibility to tailor your learning experience with an array of electives.
In-Person Residencies
As part of the program, you will join your classmates and Pepperdine faculty on campus during two weekend residencies. In these immersive learning experiences, worth 1 unit each, you will engage in hands-on learning while also networking with dispute resolution experts from around the globe.
Learn from Leading Lawyers
Pepperdine Caruso School of Law faculty are distinguished legal scholars and lawyers committed to providing students with the resources they need to succeed in our online LLM program. Our faculty mentor students one-on-one, and empower them with the real-world practical training they need to meet the complex challenges they may encounter as they solve major disputes.
Jump to:
Admissions Process
LLM Curriculum
Outcomes
Request Info
Learning Outcomes for the Online LLM
Students will graduate having mastered dispute resolution theory, and will know how to apply it in real-world situations to solve the conflicts of today.
Learning outcomes of the program include:
Knowledge and understanding of negotiation, mediation, and arbitration theory and practice.
Proficiency in critical reasoning and strategic dispute resolution analysis.
In-depth knowledge of alternative dispute resolution methods.
A deep understanding of the psychology of conflict.
The fundamentals of cross-cultural conflict and dispute resolution.
An understanding of dispute resolution as it relates to public policy.
Hands-on experience applying theories to real-world practice through mock trials and immersive experiences.

Career Paths in Dispute Resolution
Lawyers who pursue our online LLM in Dispute Resolution gain a competitive edge in their field and can further focus their law careers in arbitration, negotiation, and mediation.
Upon completing the program, attorneys may work:
Solving disputes for clients using alternative dispute resolution methods.
Consulting for organizations, helping to solve major disputes within their company.
Helping families mediate and find a solution that works for both parties during a divorce.
Aiding government agencies to help find a middle ground and push policy forward.
Investigating maladministration complaints made on public authorities, hospitals, prisons, or universities, as an ombudsman.
Prepare to Solve Today's Most Pressing Conflicts
Learn more about Pepperdine's online Master of Laws in Dispute Resolution today.
Access Your Application
Now is the time. Advance your career with Pepperdine. Take the next step today.