Earn Your Master's in Business Analytics (MSBA) Online from Pepperdine University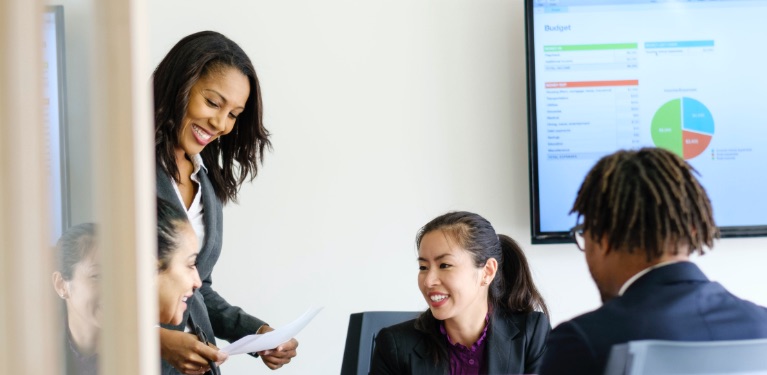 Advance Your Career with an Online Business Analytics Degree from Pepperdine
Companies worldwide are embracing a digital transformation: today, every business must be supported by relevant, accurate data.
The online Master of Science in Business Analytics program at Pepperdine Graziadio Business School prepares you to become a data translator who provides valuable, comprehensive insights that move the needle.

Accredited by the Prestigious AACSB International
Pepperdine Graziadio Business School, accredited by the Association to Advance Collegiate Schools of Business (AACSB International), has a long-standing legacy of teaching professionals to lead intelligently while demonstrating personal integrity, sound decision-making, and broad thinking.

Admissions
Pepperdine Graziadio Business School strives to admit a diverse student body, with applicants who have a variety of academic backgrounds and life experiences. Our online MS in Business Analytics program is designed for business professionals with at least three years of relevant career experience. To apply, you must have earned a bachelor's degree from an accredited institution.

Upcoming Deadline
The final deadline for the May 2024 cohort is March 1, 2024.
Tuition and Financial Aid
The online master's in business analytics program comprises 31 units. Additional fees can be expected each semester, including travel and accommodations for one required on-campus immersion.
You may be eligible for federal student aid and private scholarship opportunities to help fund your graduate education. To learn more about financing your education, visit our Tuition and Financial Aid page.
Master Data. Move the Needle.
Learn how to leverage the latest tools and models to discover invaluable insights for organizations.
Access Your Application
Now is the time. Advance your career with Pepperdine. Take the next step today.
Curriculum: Become a Data Translator
The online MS in Business Analytics program prepares you to use data to anticipate customer needs and discover patterns that solve business challenges.
You will take core courses in two main areas: decision sciences and information systems. In each course, you will gain valuable insight by applying your learning to real-world business scenarios.
In addition to teaching you technical and analytical skills, the program provides leadership and management training so that you can effectively communicate your findings in a compelling way.
Learning outcomes for the online MS in Business Analytics program include:
Proficiency in collecting, organizing, and interpreting data.
The ability to use Tableau, SQL, Hadoop, and Excel to identify data patterns.
The ability to think critically and analytically about business problems.
In-depth knowledge of essential analytics concepts, methods, and tools.
The ability to forecast outcomes and develop strategy that drives positive outcomes.
Course work will prepare you to:
Use various tools to extract meaningful data.
Clean corrupt or inaccurate data.
Understand and use decision trees.
Write algorithms with built-in decisions.
Communicate data insights to leadership.
Featured Courses
Business Process Analysis and Innovation
The main focus of this course is both understanding and designing innovative business processes that accomplish desired outcomes. During the course, students will learn how to:
Assess how business processes are set up and why.
Master Visio and learn how to use it to innovate current processes.
Effectively communicate solutions to leadership.
Big Data Management
This course provides an understanding of the business value of big data and how to leverage it to achieve positive outcomes. During the course, students will learn:
How companies are using big data to solve the problems they are facing.
How to use tools like SQL and Hadoop for big data manipulation and management.
The regulatory issues in the big data space.
Course Sequence
The online MS in Business Analytics program can be completed in 16 months. As part of the program, you will also attend an immersion in Los Angeles.
Curious to know what your schedule might look like? Check out a sample course sequence (PDF).
Make Data-Driven Business Decisions
Experience a curriculum that integrates data analytics, leadership training, and real-world business cases.
Access Your Application
Now is the time. Advance your career with Pepperdine. Take the next step today.
Distinguished Faculty
Pepperdine faculty are accomplished leaders who have worked for companies like Hilton, Honda, and PepsiCo, and are passionate about their work and their students. Our 13:1 student-faculty ratio means your professors can take the time to truly get to know you, mentor you, and support your academic and professional journey.
Faculty Spotlight
Mark Chun, PhD
Department Chair of Decision Sciences' Information Systems' and Strategy
Dr. Mark Chun has worked for companies such as Intel Corporation, PepsiCo/Taco Bell, Coopers & Lybrand, and the Bank of Hawaii. His research focuses on the use of information technology to create value and transform organizations. He has also researched the integration of information systems, knowledge management, and change management.
View more Graziadio Business School faculty on the Meet Our Faculty page.
What Can You Do with an Online Analytics Degree?
Earning a master's in business analytics online prepares you to pursue a variety of roles across several industries. Here is a sample of the types of areas in which you could apply your skills:
financial analysis
supply chain management
marketing
project management
Career Demand and Salary Expectations
The Bureau of Labor Statistics expects the demand for operations research analysts to increase 26 percent by 2028. In 2019, the median pay for that position was $84,810.2
Here are other positions that you could pursue after earning your master's in business analytics online:
business analyst
business intelligence analyst
business data analyst
business analyst manager
business analyst consultant
California Roots. Global Reach.
The network you gain is as important as the skills you learn. When you choose Pepperdine, you join a diverse community of 40,000 students, faculty, and alumni around the globe who are thinking boldly about business while leading with purpose.
Take the next step today toward earning a specialized business master's degree from Pepperdine University—named a top-50 national university in 2021.3
Ready to apply? Earn your MS in Business Analytics online from Pepperdine Graziadio Business School in 16 months.