Online Master's in Psychology Programs
Online Master's in Psychology Programs
Online Master's in Psychology Programs
Pepperdine Graduate School of Education and PsychologyPepperdine Graduate School of Education and PsychologyPepperdine Graduate School of Education and Psychology


Become a Catalyst for Inspiration and Change
Since its founding in 1971, the Pepperdine University Graduate School of Education and Psychology (GSEP) has been an innovative learning community where faculty and students of diverse cultures and perspectives work collaboratively to foster academic excellence, social purpose, and meaningful service.
Today, that innovative learning community is available to students all over the globe through our research-backed, top-tier online psychology programs. We invite you to learn more about our programs, designed to prepare students everywhere to enrich lives in their organizations and communities.
GSEP by the Numbers
Students in our online and on-campus programs inspire real change.
20,000+
Alumni leading with purpose
44,000
Hours of psychotherapy provided
1,100+
People served in our clinics each year
Learn More About the Program of Your Choice
The final deadline for the April 2024 cohort is February 9, 2024. Request information by completing the brief form.
Access Your Application
Now is the time. Advance your career with Pepperdine. Take the next step today.
Find Your Online Psychology Master's Degree Program
We offer three online degree programs, each with specialized areas of interest.
Online Master of Science in Applied Behavior Analysis (ABA)
Our online ABA program prepares students to develop a deep understanding of behavior analysis and the modern techniques used to recognize, assess, and treat human behaviors. Our ABAI-verified course sequence features concepts and principles of ABA, assessment procedures, and applications of ABA for behavior change. The program can be completed in as few as 15–21 months.
Online Master of Arts in Clinical Psychology
Our online Master of Arts in Clinical Psychology program is designed for students who want to serve individuals, couples, and families as a counselor or marriage and family therapist. Graduates will be prepared to pursue a licensed professional counselor (LPC) or a licensed marriage and family therapist (LMFT) upon graduation. The program can be completed in as few as 27 months.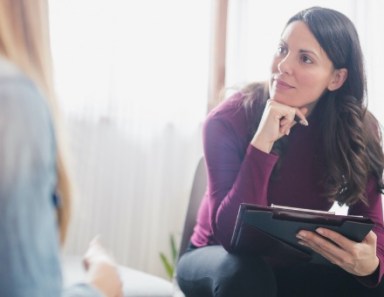 Online Master of Arts in Psychology
Our Master of Arts in Psychology program is designed for students who want to gain a thorough understanding of human behavior and psychological principles. Students are prepared to take the next step in a human services field, advance in a related field, or pursue doctoral study in psychology. The program can be completed in as few as 18–24 months.
Learn more about our on-campus psychology programs.
Antiracism and Antidiscrimination Statement
The online psychology programs and the GSEP Psychology Division stand in solidarity against racial inequities and injustice and other forms of discrimination and oppression. We are committed to fostering an inclusive learning environment that is enriched and strengthened by diversity, including but not limited to race, ethnicity and national origin, gender and gender identity, sexuality, class, age, ability status, and religion. GSEP also encourages all community members to engage in critical learning and reflection to strengthen our capacity for being effective, active, and outspoken against all forms of racism and intersectional oppression.
Our Faculty: Passionate and Purpose-Driven
GSEP faculty members are renowned practitioners in their fields who are passionate about their work and their students. Our professors teach because they want to—not because they have to—and they see sharing knowledge, mentoring students, and enriching lives as not just work, but a noble pursuit and responsibility.

Faculty Spotlight
Dr. Thema Bryant-Davis
Dr. Thema Bryant-Davis, associate professor, ordained minister, psychologist, author, host of the Homecoming podcast, and recipient of the Sarah Allen Research on the Status of Black Women Award.
Prepare for What's Next
At GSEP, we work closely with our current students and alumni as they pursue meaningful career outcomes. Students have access to a number of Pepperdine career resources, including:
One-on-one advising with an executive coach.
Student and alumni job boards.
The PeppConnect online alumni community.
Virtual and in-person networking events.
Experiential and Online
We've combined our values-based approach to education with 21st-century learning best practices to create an online experience that promotes deep thinking, purposeful reflection, and meaningful connection. As a student, you'll benefit from:
Weekly live classes that encourage discussion.
Collaborative tools and small-group activities.
Interactive course work including modules, video lectures, and case studies.
On-Campus Psychology Master's Programs
The psychology master's programs at Pepperdine GSEP empower you for personal growth and service. Change lives as a marriage and family therapist, clinical psychologist, or applied behavior analyst. Extensive practicum experience is offered through a scholar-practitioner model. Whether you're looking for a full-time program or need flexibility as a working professional, our on-campus programs offer a degree for you.
Visit our on-campus site to learn more and apply to on-campus programs. Note that on-campus and online psychology program applications are separate. Access the online psychology programs application here.
Clinical Training in Your Community
Clinical training is an essential component of our online ABA and online master's in clinical psychology programs. Our dedicated placement team will work with you to find and secure Pepperdine-approved practicum and internship opportunities, where you can observe professionals in the field and gain direct experience working with clients in or near your own community.

Serving the Greater Good for More Than 50 Years
For the last 50 years, Pepperdine has empowered students to transform themselves, and others, into the best possible expression of themselves. That legacy is alive today more than ever, as we help students all over the globe gain the skills they need to achieve personal fulfillment, lead with purpose, and make a lasting impact in the lives and communities they serve.
We look forward to the next 50 years of psychology education the Pepperdine way:
with purpose, service, and leadership.
Join us—we're just getting started.
Access Your Application
Now is the time. Advance your career with Pepperdine. Take the next step today.