Why Get an MBA? An Outline of the Benefits and How to Get Started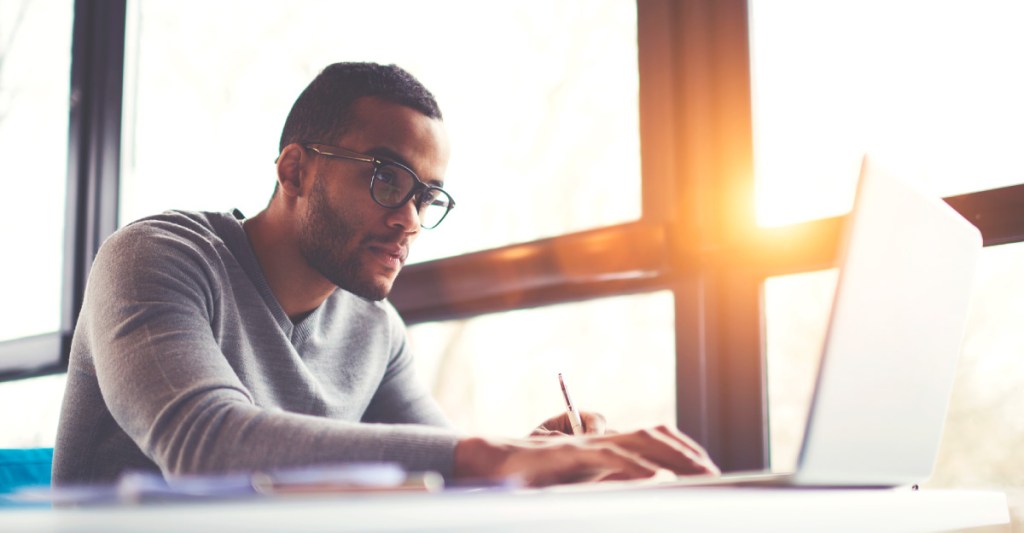 For many working professionals, getting a Master of Business Administration (MBA) seems like the next logical step in advancing their career. Whether you work in technology, finance, management, marketing, or manufacturing, pursuing an MBA can be an investment in your future. Earning an MBA may open up opportunities for greater responsibility, career advancement, and increased financial rewards while also improving your communication and leadership skills.
Here, we'll discuss why you should get an MBA, the benefits of getting an MBA, and how to get started.
Top 7 Benefits of Getting an MBA
Whether you just earned an undergraduate degree or are considering going back to school, pursuing an MBA can help you enhance your skills, showcase your dedication, and highlight your business expertise. Regardless of your industry or professional focus area, earning an MBA could allow you to reap a number of expected and unexpected benefits. Often enough, those benefits may extend beyond your chosen career and professional goals and could be applicable to your non-work life.
So, why get an MBA? Here are seven benefits of getting an MBA:
1. Gaining Future-Ready Skills
What does an MBA teach you? An MBA is designed for people interested in gaining business skills that could accelerate their careers. That's because MBA programs help students develop the skills required to become and excel as business executives. Students learn how to inspire and motivate others, a vital skill set for those who want to tackle ambitious projects that require teamwork. Students also learn how to quickly and accurately analyze large amounts of information and gain the ability to develop smart solutions to business problems.
Students in MBA programs also learn the following:
Communication skills: Businesses need employees who can communicate effectively with colleagues and clients. In an MBA program, you'll be taught how to be a confident presenter, attentive listener, and concise writer.
Flexibility: The ability to take on diverse responsibilities and switch from one activity to another is important in the corporate world. MBA programs emphasize time management. As a student, you will learn how to juggle course work, social engagements, and professional commitments.
Strategic thinking: Strategic thinkers are able to plan for the future while keeping their eye on current demands. Your MBA will equip you with the ability to think strategically, something many employers deem crucial for a well-functioning workplace.
Entrepreneurial spirit: Even if you don't plan on starting your own company after graduating with an MBA, an entrepreneurial outlook is an asset in business. Your MBA instructors will teach you how to identify gaps in the market and make sense of trends.
Leadership skills: Leadership is a fundamental MBA skill, and in your program, you'll learn how to supervise, manage, and motivate a team to work toward a common goal. In fact, the Graduate Management Admission Council (GMAC) found that 77 percent of graduates who participated in its 2021 research brief on the value of graduate management education (PDF, 836 KB) said that their graduate business education prepared them for leadership roles.
Resilience: Everyone faces challenges and setbacks in life. To many in the corporate world, an MBA signals that you likely have the ability to set goals, learn lessons, and keep going despite setbacks.
2. Expanded and Diversified Professional Network
One of the benefits of completing an MBA program is a tight-knit and diversified network. When you enroll in business school, you become part of a community of future leaders and well-connected alumni. You'll meet people from all over the world and may even end up creating lifelong friendships that can benefit you in the future. Most MBA programs offer access to networking events, like student-led forums or conferences hosted by potential employers. These events have the potential to expand your reach once you've completed your MBA degree.
A number of notable executives are business school graduates. Alumni of the Pepperdine Graziadio Business School include Chung Sye-kyun, former prime minister of South Korea, and Stanley Deal, executive vice president of The Boeing Company.
In the GMAC research brief on the value of graduate management education (PDF, 836 KB), 76 percent of respondents said that attending business school helped them develop their professional network. The ability to build, maintain, and expand professional connections is beneficial in the workplace, as there may come a time when you need to tap into your network. The networking skills you will learn during your MBA program can allow you to expand your network even further and create opportunities for learning, partnership, and growth as you evolve in the industry.
3. Increased Job Competitiveness
An MBA is a qualification that is recognized and respected around the world, and in a competitive job market, this advanced degree may set you apart from other applicants. The types of job positions available to MBA graduates are wide-ranging, as the degree equips candidates with transferable skills. Recruiters look for individuals who can provide vision and clarity while guiding a company or division through strategic challenges. The proportion of recruiters projecting to hire candidates with an MBA has grown steadily over the past decade, according to the GMAC 2021 corporate recruiters survey (PDF, 2.1 MB). From marketing to finance, MBA graduates use their newfound knowledge and in-demand competencies to fill in skill and talent gaps.
4. Accelerated Career Path
Earning an MBA can qualify you to apply to higher-level positions and increase your career opportunities. Many MBA students are looking to grow professionally within a certain industry or at their current company, which involves gaining access to more senior roles. Graduates from top MBA programs can land positions that put them on a path to leadership, as employers expect these graduates to have the academic, interpersonal, and leadership skills needed to solve complex business problems.
5. Getting a Global Perspective
An MBA broadens your knowledge and helps you understand how to operate in a global marketplace. Earning an MBA often puts you in contact with students from around the world who have different work experiences and perspectives on the global economy. By choosing a business school that attracts international students, you will further be exposed to diversity in the classroom with enlightened discussions on the global economy. Oftentimes, MBA programs also offer overseas immersion trips so students can get a firsthand look at how to manage businesses globally.
Outside of the classroom, MBA graduates attend conferences and networking events to hone their global knowledge and learn about business concerns in preparation for their own careers. This way, they can connect with business professionals from other countries and become more familiar with their cultures, lived experiences, and perspectives.
6. Potentially Higher Earnings
The opportunity for better financial rewards is one reason why many people enter MBA programs. Although it often requires a significant financial investment up front, the degree can lead to greater salary earnings over time. At $115,000, the median salary of MBA graduates in 2020 was 77 percent higher than the median salary of employees with just a bachelor's degree ($65,000), according to GMAC findings. MBAs serve as a gateway to business leadership positions, and management roles typically involve higher salaries than non-management jobs. In the 2021 GMAC research brief on the value of graduate management education (PDF, 836 KB), 79 percent of alumni reported increases in their earning power. In that same brief, one in three alumni reported to have increased their median salary from the $50,000–$100,000 range to over $100K.
The value of an MBA is reinforced by the salary premium employers are willing to pay for the skills graduates have acquired. According to the GMAC 2021 corporate recruiters survey (PDF, 2.1 MB), this salary premium could help an MBA graduate earn $3 million more over their lifetime than someone with just a bachelor's degree. With their versatile skill set that includes strategic thinking and strong communication, MBA graduates make for confident hires who can help drive success at their organizations.
7. Job Security
The modern job market isn't always predictable. Earning an MBA can provide you with a more marketable skill set and greater job security. In the research brief on the value of graduate management education (PDF, 836 KB) conducted by the GMAC, 63 percent of participants agreed that their graduate business education gave them better job security. You'll learn how to be a valuable member of a team—and even if you leave your job, your business qualifications may help you land a new role when you're ready for that step.
What Can You Do With an MBA?
MBA course work involves a broad spectrum of business-related topics including accounting, statistics, economics, communications, management, and entrepreneurship. Students in top-tier programs learn high-level management skills and strategies, preparing them for work in a variety of settings—from well-known financial institutions to fledgling startups.
After completing your online or in-person MBA program, you can explore a range of options, including Fortune 500 companies. Some industries that recent MBA graduates work in include the following:
Consulting
Project Management
Finance and Accounting
Healthcare
Information Technology (IT)
Construction
Energy
Manufacturing
Marketing
Nonprofit
Government
Consumer Product/Services
Retail
Transportation
Education
Engineering
Real Estate and Property Management
Media
While job titles vary from company to company, here are common examples of jobs MBA graduates can fill, from entry-level to executive-level:
Accounting Manager
Finance Manager
Financial Analyst
Budget Analyst
Data Analyst
Investment Banker
Investment Fund Manager
Marketing Manager
Market Research Analyst
Human Resources Manager
Sales/Business Development Manager
Program Director
Brand Manager
Product Manager
Project Manager
Operations Manager
Supply Chain and Logistics Manager
General Manager
Chief Executive Officer
Chief Operations Officer
Chief Financial Officer
Chief Marketing Officer
Chief Information Officer
While MBA skills are relevant to each of these roles, job responsibilities and day-to-day tasks vary widely.
Does It Matter Where You Get Your MBA?
When deciding which MBA programs to apply to, there are a few factors to consider. While school status could put you in front of certain employers, companies won't reject overwhelmingly qualified candidates for having attended a less prestigious school. At the end of the day, rankings don't reveal everything—you should also research course and concentration offerings, accreditation, admission requirements, tuition costs, program delivery format, and overall program practicality.
The Pepperdine Graziadio Business School offers a top-ranked online MBA program as well as on-ground MBA programs that combine education in strategy, technology, and values-driven leadership to empower you to drive meaningful change inside and outside the workplace. Accredited by the Association to Advance Collegiate Schools of Business (AACSB), Pepperdine University has a long-standing legacy of teaching professionals to lead intelligently while demonstrating personal integrity, sound decision making, and broad thinking.
How to Get Started on the MBA Application Process
Wondering how to get an MBA? Figuring out how to stand out and gain admission to your top-choice business school is an increasingly challenging task. Applying to business school entails much more than just writing essays—it's a process that requires a consistent personal brand across your application and associated documents. Here are just a few of the things to keep in mind as you get started on your journey to earning an MBA.
1. Find the Right MBA Program for You
Many students worry about choosing the right MBA program and if they can handle graduate-level work. What matters is where you are currently in your professional life and where you want to be in the years to come. MBA programs are a big commitment, so before asking yourself why get an MBA, carefully consider how the degree will help you meet your goals. You'll also want to consider your current lifestyle and whether you should apply for an online, part-time, or full-time degree program.
As previously mentioned, MBA concentration options are another factor to consider when choosing a program. Are you interested in finance, or would you rather focus on an entrepreneurship track that equips you to set up a company of your own?
2. Make Sure You Meet the Admissions Requirements
Once you've identified the schools best suited for you, it's time to start the application process. MBA applications typically include resumes, academic transcripts, essays, recommendation letters, and standardized test scores (i.e., the GMAT or GRE). However, there are test-optional programs that don't require business school entrance exams. Some schools may also invite applicants to interview or submit video essays. MBA admissions counselors generally like to see applicants with a commitment to their field of interest and may also show an interest in candidates with clear evidence of career progression and a willingness to take on more professional responsibility.
The online MBA program from the Pepperdine Graziadio Business School does not require applicants to submit test scores, but applicants will have to submit a statement of purpose, official transcripts, up to two letters of recommendation, and a $150 application fee.
3. Have Your Essential Documents Ready
Take time to prepare your official transcripts and other required documents when applying to MBA programs. One of the most common essays you will be asked to write is a personal statement, where you share your short-term and long-term goals as well as why you belong in that university's MBA program. After you have crafted your attention-grabbing personal statement, it's time to fill out the application forms by registering online. Carefully answer each question in a manner that ensures your responses are aligned with your personal brand.
4. Ask for Letters of Recommendation
A letter of recommendation is a business school's chance to hear about your strengths and weaknesses from an outsider's perspective. In general, most business schools will require more than one letter of recommendation, preferably from a current supervisor or someone you've worked with extensively. Some schools may also accept academic references. Selecting the people who will recommend you is one of the more important decisions you'll make during your MBA application journey. The Pepperdine Graziadio Business School requires at least one letter of recommendation (no more than two) and provides recommenders with a form they can fill out.
5. Submit Your Application
Be sure to gather all required documents ahead of time to avoid missing the application deadline, as admissions counselors won't view late or incomplete applications. Most schools offer rolling admissions, meaning they accept applications throughout the year for any upcoming cohorts. Classes for the online MBA program at the Pepperdine Graziadio Business School begin in January, May, and August each year, though every university and program is different. Once you have applied, the waiting game begins.
FAQ
How long does it take to get an MBA?
expand_more
It's important to find an MBA program that best suits your personal career goals and is flexible enough to fit into your schedule. MBA programs vary in length, depending on whether the program is full time or part time, if it's an online or accelerated degree, and the school's specific graduation requirements and academic calendar. The traditional MBA is a full-time, two-year program. Pepperdine University students can earn their MBA in as few as 24 months, or in 48 months. The online MBA gives you the flexibility of earning your degree while you work. 
Is an MBA worth it?
expand_more
If your goal is to work in a business-related field, an MBA could be beneficial to you. Sometimes, the full impact of an MBA degree can take a few years to come to fruition. Given the amount of time, money, and effort that it takes to get an MBA, it's important to solidify your goals before pursuing one. If you're ready to advance your career and explore new industries, then earning an MBA might be the right choice for you. 
What classes are included in an MBA?
expand_more
MBA curricula vary depending on the university you attend, but in general, students will learn the technical, managerial, and leadership skills needed to work in business. At the Pepperdine Graziadio, students learn about topics including leadership development, business tech, organizational behavior, profitability, financial management, processes and systems, regulatory issues, and strategic management. Students also have the option to customize their education by choosing a general track or specific concentrations in business analytics, finance, marketing, global business, entrepreneurship, leadership and organizational change, digital innovation and information systems, and more. 
Pepperdine also holds a weekend-long immersion workshop in Los Angeles, where students examine business ethics and develop their leadership skills while working in a tight-knit setting. 
How much does an MBA cost?
expand_more
Cost will heavily depend on the type of program and whether you're attending a public or private university. Tuition prices are typically lower at public schools than private schools, especially for in-state students. Pepperdine University's current tuition rate is $1,920 per credit, which equates to $99,840 for the entire program. You may be eligible to apply for federal student aid and private scholarship opportunities to help fund your graduate education.
Last updated February 2022.