Earn a Top-Ranked Online MBA from Pepperdine University
Lead with Integrity. Drive Innovation.
The online Master of Business Administration (MBA) program from Pepperdine's Graziadio Business School is more than a top-20 MBA.1 Our curriculum combines education in strategy, technology, and values-driven leadership to empower you to drive meaningful change—not just at work, but in the world, too.
Here, you will solve real-world business challenges for brands like Adobe and Coca-Cola through our Education to Business program and focus your degree with one of seven concentrations. But you will do—and gain—much more than that, too. Our students aren't just prepared for today's business, they are transformed into professionals who lead with integrity and drive innovation.
Complete in as
Few as 24 Months
Seven Concentrations
and a General Track

Accredited by the prestigious AACSB International
Pepperdine Graziadio Business School, accredited by the Association to Advance Collegiate Schools of Business (AACSB International), has a long-standing legacy of teaching professionals to lead intelligently while demonstrating personal integrity, sound decision-making, and broad thinking.

Jump to:
Admissions
Curriculum
Career Outlook
Request Info
A Different Kind of Online MBA
Our online MBA is relational, experiential, applied, and learner-focused. It's designed to challenge you to grow and empower you to make meaningful connections with Pepperdine classmates, distinguished faculty, and key companies in California.
Relational: Our online classroom—and program—is designed for collaboration. Students engage with classmates during live class discussion, work in teams, and often connect with one another in between weekly classes.
Experiential: Our Education to Business program gives students the opportunity to pitch their solutions directly to executives from big-name companies. Students work in small teams developing bold ideas that often get implemented, get them hired, and create real change.
Applied: Our curriculum is built with not just today's, but tomorrow's business in mind. Our students learn business strategy and insights they can apply immediately, and they also learn how to think across different disciplines—the intersection between business and tech is especially explored.
Learner-Focused: Our program is designed to fit your goals and your life. You can customize your degree through six focus areas, attend full or part time, and speak with admissions or student support about your professional goals at any time.
We've redefined more than the traditional online MBA. Discover our online student experience.
On-Campus Business Programs
Whether you're a working professional seeking a part-time MBA, are interested in pursuing a full-time MBA, or are an experienced manager interested in an executive MBA, the Graziadio Business School is ready to help you excel.
Admissions
Pepperdine Graziadio Business School values diversity both in our applicants' academic backgrounds and life experiences. Our online MBA program is designed for business professionals with two or more years of relevant career experience. To apply, you must have earned a bachelor's degree from an accredited institution.
Fall 2021 Cohort
| Classes Start | Early Priority Deadline | Priority Deadline | Final Deadline |
| --- | --- | --- | --- |
| Monday, August 30, 2021 | Friday, May 14, 2021 | Friday, June 4, 2021 | Friday, July 2, 2021 |
Tuition and Financial Aid
MBA tuition for the 2021–2022 academic year is $1,920 per unit. The online MBA program comprises 52 units. Additional fees can be expected each semester, including travel and accommodations for one required on-campus immersion.
You may be eligible for federal student aid and private scholarship opportunities to help fund your graduate education. For more information about how to finance your online MBA program, visit our tuition and financial aid page.
Business Is Evolving. Evolve with It.
Prepare for the next phase of your career with Pepperdine's top-ranked AACSB-accredited online MBA program.
Jump to:
Admissions
Curriculum
Career Outlook
Request Info
Robust Curriculum
The online MBA curriculum explores business fundamentals through the lens of 21st-century insights and strategies to prepare students for business in a digital world.
You will learn about topics including leadership development, business tech, organizational behavior, profitability, financial management, processes and systems, regulatory issues, and strategic management.
52
units
15
courses
1
immersion
The curriculum enables you to customize your education by choosing either
a general track or one of seven specific concentrations:
General: Develop expertise across business areas by choosing a combination of electives in finance, marketing, digital innovation, and leadership.
Business Analytics: Gain a solid foundation in statistical methods, data analysis, and modeling techniques.
Finance: Explore topics related to corporate finance, investment banking, risk management, new venture financing, and real estate markets.
Marketing: Learn how to develop global marketing strategies, with a focus on areas such as pricing, consumer segmentation, and product development.
Digital Innovation and Information Systems: Discover how to build businesses using technologies including IT security and infrastructure management.
Leadership and Managing Organizational Change: Hone your skills as a leader who celebrates diversity while making strategic, ethically responsible decisions.
Entrepreneurship: Tap into your creativity and translate your vision into a real business—one that not only produces wealth, but allows you to express your personal values.
Global Business: This concentration will help students launch a career in international business. Following the completion of this program, students will possess a deep understanding of the global economy and its markets.
Course Sequence
The online MBA program can be completed in as few as 24 months, giving you the flexibility to earn your degree while you work.
Curious to know what your schedule might look like?
Immersion
During one weekend immersion in Los Angeles, you will examine business ethics and develop your leadership skills while working in a tight-knit setting. The workshop features community-building exercises and leadership challenges that will strengthen your skills and your connections with classmates and faculty.
Distinguished Faculty
Pepperdine faculty are accomplished leaders who have worked for companies like Hilton, Honda, and NASA, and are passionate about their work and their students. Our 13:1 student-faculty ratio means your professors can take the time to truly get to know you, mentor you, and support your academic and professional journey.
Jump to:
Admissions
Curriculum
Career Outlook
Request Info
The Value of an Online MBA
An MBA remains a good investment for professionals in California and beyond seeking greater responsibility and a higher salary. According to the Graduate Management Admission Council, the average salary for MBA graduates in 2018 was $105,000.2
Through the online program, you will graduate with an MBA from Pepperdine University, which was ranked among the top 50 national universities by U.S. News & World Report in 2018.3
Our Online MBA Program Supports Your Career Growth
Pepperdine's online MBA program provides the same esteemed, customizable experience offered on campus so that you achieve your career goals, whether you want to continue advancing in your current role or transition to a new field.
Here is how we ensure your success:
Choose this path if you want to help with:
The opportunity to participate in our Education to Business program—which will add brands like Adobe and Coca-Cola to your resume before you graduate.
Access to one-on-one coaching and other career resources through the Graziadio Business School career portal.
Mentorship from faculty who are readily accessible to meet with you and lend their expertise.
Here are some of the careers you may be prepared to pursue after earning your master's degree in business administration online:
financial analyst
financial manager
marketing manager
human resources manager
business operations manager
sales manager
C-level executive (CEO, CFO, COO)
Diversity in the Classroom
Our online MBA program includes students with diverse backgrounds, professional experiences, and viewpoints. These various perspectives improve the classroom experience by creating more nuanced discussion and debate.
Circle graph shows the percentage breakdown of race. 40% White/Caucasian, 19% Unknown, 19% Asian, 10% Black, 12% Hispanic, 1% American Indian/Alaskan Native, 1% Native Hawaiian/Pacific Islander.
This information reflects data collected from online MBA students in the fall 2016 to summer 2019 cohorts with a 100% response rate.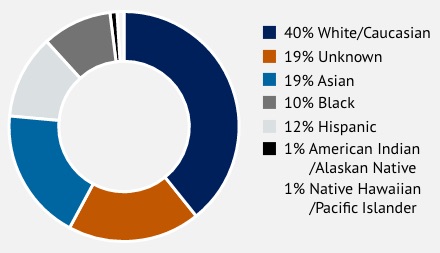 California Roots. Global Reach.
Pepperdine University has been a driver in the region's educational space and a beacon of ethical values in higher education since 1937. Today, the Graziadio Business School has an alumni network of over 40,000 students from around the globe who are leading with purpose. Whether you live in San Francisco, Sacramento, or beyond, we invite you to join us—together, we'll prepare you for the next phase of your career as we explore new and challenging ways to think about business.
Master Business with Us
Earn your MBA online from Pepperdine Graziadio Business School in as few as 24 months.