Brianna Hart-Schlappich
Master's in Psychology
Graduate Admissions Counselor, Bellevue University
Bellevue, NE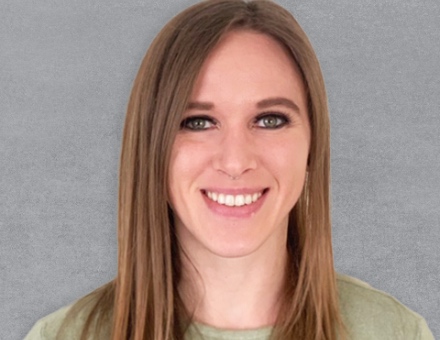 A Supportive Online Environment
Brianna had been searching for an online program that gave her an experience that mirrored the level of interaction in an on-campus degree. Throughout her time at Pepperdine, she felt supported every step of the way and that she was truly part of the Pepperdine community.
"I think a lot of students go into an online program and they expect that they're going to be on their own, but the program at Pepperdine just surpasses all of that. The professors are super responsive, and the support that you get not only from your classmates, professors, but also the advising team is top-notch, and everybody is on their game—and if they don't know an answer, they'll find it for you. It's incredibly helpful."
Directly Applying New Skills in Real Time
Each course gave Brianna the opportunity to apply new conversational strategies and methods at her job in university admissions. She found the way she learned to phrase questions and conduct interviews to be particularly helpful when getting to know prospective students.
"I've been able to use things here and there from classes, like the techniques of counseling theories class, what questions to ask, how to phrase questions, or how to not get stuck in just the yes or no sort of interview-style. I'm working with students and really learning which questions to ask that would determine their goals. Every class that I've taken can be applied somewhere."
Thinking About the Future
Now that Brianna is making progress in the program, she's starting to think about the career choices she has after graduation. By earning her master's in psychology degree, she has the opportunity to branch out into the field she is passionate about.
"I chose this graduate program because I was thinking about getting licensed. Now, as I'm moving through the program and learning more in these classes that prepare you for practice, I've actually been playing with the idea of finishing the MAP program and determining what I would have to do for the clinical counseling program. I may go that route to become licensed and then enter that career field."