Rachel Sile
Master of Legal Studies (MLS) Online
Technology business management analyst
for the U.S. Court System
Washington, D.C.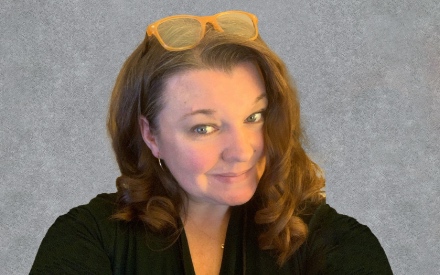 A lifelong love of learning and the law
While Rachel Sile is from northern Virginia and works in Washington, D.C., she lived on the West Coast for many years when she was in the Marine Corps. Driving up and down Route 1, she would often see Pepperdine's campus. Today, she works for the administration offices of the U.S. Court System as a technology business management analyst, and previously worked in cybersecurity. As someone who has always loved learning and considered law school, Rachel sought out an advanced degree program that suited her interests.
"I gravitated toward Pepperdine because of the full depth and breadth of law in general and not just a specific niche. I liked the idea of being expansive in my personal life as well as my professional life."
Looking ahead to the second half of her life's journey
Rachel had started an MBA program elsewhere but had to put it on hold to devote her attention elsewhere for a while. Given her stage of life, she began rethinking what she wanted from a master's program. She and her husband were now empty-nesters, and learning how to navigate through the terminology of wills and estates seemed more practical than taking only business courses.
"My husband is going to be retiring in eight years and I get to start a second career, so enrolling in the MLS program was an opportunity for me to explore some things I wanted to do and where I wanted to go in the second half of my journey."
A better grasp of writing and her customer base
Both Rachel and her employer have already reaped the rewards of her ongoing education. In particular, Rachel cites her Legal Writing for Non-Lawyers course with teaching her—an IT person—how to write and learning how to translate her colleagues' procurement requests or labor requirements into what's needed for the judiciary as a whole.
"I have a much more profound understanding of my customer base and what my customers have to go through in order to get things done to fulfill the mission of the judiciary, which is equal justice under the law, and so I've been able to take and refine the work that we do in order to procure things into much more sound legal documents."
Challenging, but in a good way
Though it's hard for her to pick favorites, Rachel especially enjoyed Intro to U.S. Law and Constitutional Law. She has found some classes to be extremely challenging, but in a good way. And she can't say enough about the MLS faculty.
"The professors have been amazing. I haven't had a bad professor. I'm actually finishing up a Ph.D. application—I'm going to continue on because I love the legal field now so much—and I've had professors offer to write me a recommendation."