Mark Rapanut
Master of Legal Studies (MLS) Online
Compliance leader in the cannabis industry
Oakland, CA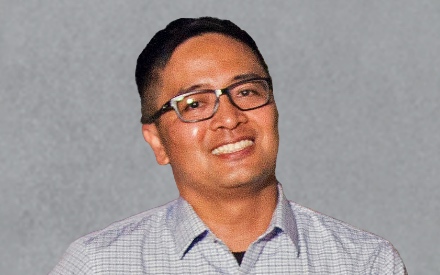 A career in many industries
Mark Rapanut has an interesting and varied work history. He started his career in healthcare auditing before moving into compliance roles with the California Department of Public Health, a hospital, and a large pharmaceutical company. From there he joined Uber to build their compliance program. Currently, he works in the cannabis industry in the San Francisco Bay Area.
"It really intrigued me how this industry was operating in an unregulated or loosely regulated market for so many years. In my current job I'm in charge of our compliance program and making sure that all the products that we manufacture, produce, and distribute are compliant products and making sure we also comply with all the other agencies that touch our industry."
A curriculum applicable to compliance
Mark had been looking for a graduate program for years that would help him in his career. Colleagues and bosses who had JDs advised Mark against it, warning that law school tuition might not be worth it if he wasn't planning to go into litigation or become in-house counsel. Mark found the curricula of other legal studies programs weren't very applicable to his work in compliance—until he discovered Pepperdine's MLS program.
"I've been able to use everything I'm learning in real-time on the job. I never really had the formal training on every subject, so that's why I joined this program—to formalize my understanding of the law and how the law works, and hopefully to help me be a lot better at my job."
A strategic advantage against JDs
Broadening his legal knowledge will also make him marketable to as many industries as possible, especially to the newly developed or newly regulated industries he's attracted to. Mark says the MLS program has already opened a lot of doors for him—he is currently interviewing with Facebook and Instacart.
"I feel like this degree has really helped me be more marketable because I am sometimes competing with JDs, but my strategic advantage is that I'll have knowledge of the law but at a more flexible rate than a JD would need salary-wise."
Professionally and personally fulfilling
There isn't a single class he's taken yet that hasn't been interesting to Mark professionally or personally. From Torts opening his eyes to how risk functions in the world, to Property Law helping him plan for his kids' futures, to Constitutional Law giving him a new understanding of the social justice movements in the U.S., all of his courses have been very relevant and fulfilling, he says.
"Growing up as a minority here in Oakland, and knowing what are our Constitutional rights and what are our diversity rights according to the State Constitution, Federal Constitution, and our local laws, that's all very important to me and how I want to bring up my kids."