Kris Patel
Legal Assistant
Dual Major in Criminal Justice and Political Science from Rutgers University
New Jersey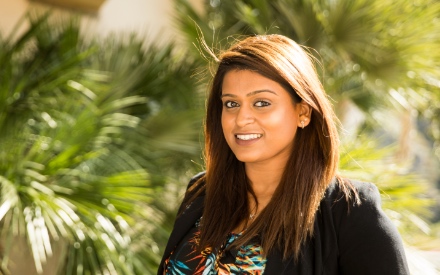 Tell us a little bit about yourself.
I was born and raised in New Jersey. I moved to Florida about 3.5 years ago and recently just moved back to New Jersey. Since graduating from Rutgers, I have worked as a legal assistant at a family law firm in New Jersey as well as at a criminal defense and family law firm in Florida. While in Florida, I transitioned into medical malpractice law and realized I did not like it at all. I eventually want to use my MLS degree from Pepperdine to work with a mediation or arbitration firm, and hopefully be able to do my own mediations. Outside of the law scene I'm a nightly "gym rat," and on the weekends I play soccer—both of which help keep me sane.
Why did you choose this online program over other programs?
I chose this online program because Pepperdine has an astonishing reputation and is also ranked as one of the best schools in regards to dispute resolution. Also, in my initial interview, I loved how welcoming everyone was.
What surprised you most about the online learning experience?
It surprised me that everything was easily accessible. Obviously, there are always technical difficulties, but the online program has staff in the classroom live sessions to assist you if something goes wrong. I also liked that I was able to review the material on my own time, as long as it was done before class.
What has been your favorite class so far and why?
Negotiation and Mediation have both been my favorite classes so far. Negotiation taught me how to use certain techniques in way that can help me get what I want without looking like a bad person. Mediation has taught me how to use what I've learned from the Negotiation class, and use it so that it can be beneficial for both parties. It also taught me how to get the clients to listen to what I'm saying when they're not willing to listen to their attorneys. Both classes have given me a better understanding of how to be a better negotiator as well as a mediator.