Denis McDanel
Director of Sales
Bachelor of Science in Applied Management
Temecula, California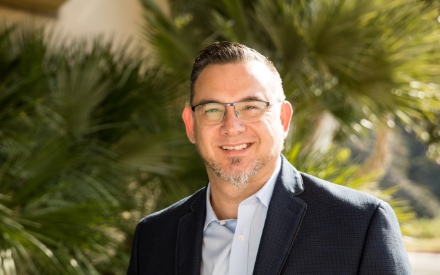 Tell us a little bit about yourself.
I've been in technology sales for over 20 years. I am currently a director of sales for an HR case management software company and work mainly out of my home office. I love what I do and plan to continue my career into senior-level/executive-level senior management.
Why did you choose this online program over other programs?
I have a long personal history with Pepperdine, as it was the school I wanted to attend coming out of high school. I never did enroll, and to have the opportunity to achieve a goal of mine some 30 years later is just really amazing to me. I'm looking forward to finishing the program and being part of the Pepperdine family moving forward!
What surprised you most about the online learning experience?
Here at Pepperdine, the difference in the online learning experience is very obvious. I completed my bachelor's degree online as well, and I can tell you that the online experience at Pepperdine is second to none! I feel like I'm a part of the university as if I was attending classes on campus. The staff and everyone at Pepperdine, from the professors to the administration, go out of their way to make the online students feel like a part of the university, and it shows!
What has been your favorite class so far and why?
My favorite class so far has been Torts. It was really great learning about all of the different types of torts and how the law views certain aspects of a tort.
How do you plan to use this degree after you graduate?
Right now it will help in my chosen profession in sales management. I will explore other options as I continue with the program.
Do you have any advice for prospective students?
My advice to prospective students is to immerse yourself in the experience of being a student at Pepperdine. The tradition, the people, the education … it's all available to you, so enjoy being a part of Pepperdine University! #GOWAVES