Ashley Ram
Legal Assistant – Paralegal
BA in Criminal Justice: Legal Studies
Rio Linda, California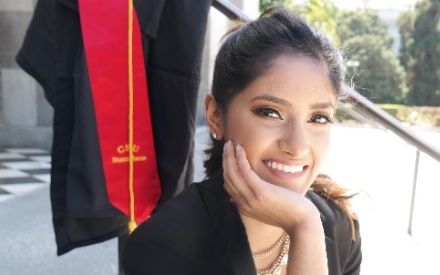 Why did you choose this online program over other programs?
A lot of programs I looked into did not offer courses in arbitration and mediation. The campus is absolutely breathtaking. The staff members were so helpful, even before I was accepted. For me, good faculty is a win—whether it's admissions, financial aid, counseling, or advising, they will provide you with more than what you asked for.
What surprised you most about the online learning experience?
Forming study groups wasn't hard. It felt a little awkward because interacting with others online is different compared to in person. All it takes is an email or an IM and you can make a new friend. This program has two residency courses. I thought it would be awkward meeting everyone in person for the first time, but it was actually really fun and we were able to recognize each other, so it was not awkward at all.
What has been your favorite class so far and why?
Torts and Property Law. I enjoyed Torts because Professor Belton is a passionate professor who would go out of his way to make sure we understood the material. We could be tired after a long day of work, and he would be so energetic during lecture. Property Law is a complex subject. I learned a lot from this class about the different types of property, which is probably why it's one of my favorites.
Do you have any advice for prospective students?
The amount of work that you have to put in can be overwhelming at times, especially if you work and go to school. When you start feeling overwhelmed, reach out to your student advisors—whether you need assistance or just someone to talk to. Don't forget to take care of yourself, mentally and physically.