Spark Meaningful Change—Wherever You AreSpark Meaningful Change—Wherever You AreSpark Meaningful Change—Wherever You Are
Pepperdine's Online Master's in Management and Leadership
Pepperdine's Online Master's in Management and Leadership
Pepperdine's Online Master's in Management and Leadership
The online Master of Science in Management and Leadership program from Pepperdine's Graziadio Business School offers a curriculum driven by experience. You will graduate prepared to effectively empower individuals and implement meaningful change across large-scale corporations, not-for-profit institutions, and cutting-edge startups—without having to relocate or put your commitments on hold.
Complete in as Few as 12 Months | No GMAT/GRE Required | AACSB-Accredited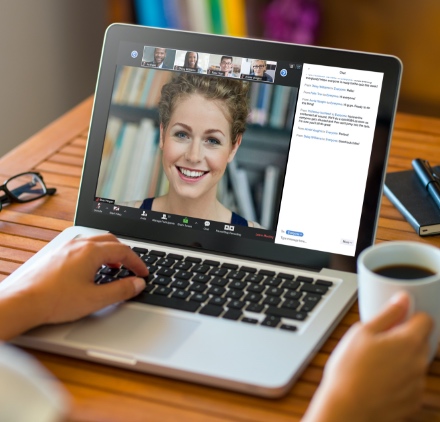 Why Online?
Train with faculty who are doing big things. You'll learn from faculty members who have real-world experience leading teams at organizations like Boeing, Hilton, and NASA.
Learn management and leadership skills you can apply immediately. You'll attend weekly live classes and complete engaging course work on your own time in between classes.
Address real organizational opportunities and challenges.You'll help a nonprofit organization achieve its mission-driven goals during the Education to Community capstone course.
Engage with classmates during lively class discussion. You'll work in teams, join peers and faculty for two on-campus immersions in Malibu, and connect with a network of more than 40,000 values-driven professionals across the globe.
Attend a program designed to fit your goals and your life. You can choose to enroll full or part time, and speak with admissions or student support about your professional goals at any time.
Curriculum
The 36-unit curriculum in our online leadership-focused master's program is designed to help you manage change at all levels of your organization. You will build essential expertise in areas such as self-awareness, group dynamics, project management, organization and work design, and team and organizational culture.
At Graziadio, we believe that management is not static and learning cannot be limited to the classroom. Our courses will push you to seek out mentorship opportunities and hone your soft skills in real-world business settings.
Career Outcomes
A leadership-focused master's degree can prepare you to advance within your organization as a people manager, or take on new roles helping organizations better utilize their resources. In as little as one year, our graduates may be ready to pursue roles in:
Leadership positions—Directors, VPs, C-suite employees, entrepreneurs
Management positions—Team managers, department managers, project managers
Supervisory positions—Business strategists, consultants
In a recent recruitment survey from the Graduate Management Council, the majority of Fortune 100, Fortune 500, and publicly traded companies indicated an interest in hiring candidates with a master's in management in 2021.1
Admissions
Pepperdine Graziadio Business School values diversity both in our applicants' academic backgrounds and life experiences. Our online master's in management and leadership program is designed for business professionals with two or more years of relevant career experience.
Classes begin in January, May, and August. Applications are accepted throughout the year and reviewed by the admissions committee on a rolling basis. To apply, you must have earned a bachelor's degree from an accredited institution.
Questions? We're Here to Help.
Our admissions team is readily available to speak with you and offer support at every step of your application. Request more information and an admissions counselor will contact you.
1 Graduate Management Council Corporate Recruiters Survey External link (PDF 4.7MB), 2021. (Accessed November 16, 2020) arrow_upwardReturn to footnote reference