Eileen Ponce
Online Master of Business Administration (MBA)
Healthcare Compliance and Privacy at Hoag Hospital
Tustin, CA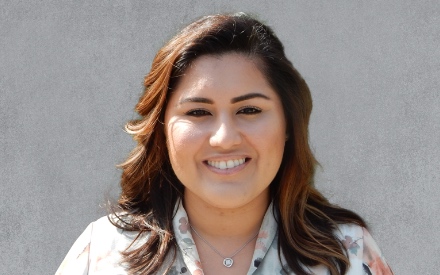 Online Learning was the Right Fit for this Working Professional
A native of Orange County, California, Eileen Ponce received her undergraduate degree from California State University, Fullerton, where she majored in business management with a legal studies emphasis. She currently works in the healthcare industry. In seeking a graduate program, Pepperdine checked all the right boxes.
"I chose to pursue my business degree online because I'm a full-time working professional and I love to spend time with my family. It was important to find an online program that grasped those important factors for me."
Building Relationships Online and In-person
While Eileen was new to online learning and her cohort lives all over the country, the immersion weekend on Pepperdine's campus was her favorite part of the program so far.
"I've been an on-campus student the majority of my educational career and I have been able to connect and build more relationships on the online platform, to be honest."
Breaking Out of Her Shell and Bonding with her Cohort
As for notable projects or experiences that she's had in the program, Eileen says the leadership development group was especially impactful.
"That experience stood out for me because it was a way to not only break out of my shell because I'm an introvert, but also to bond with a number of people in my group and cohort."
Strengthening Her Skills at Work
Eileen has been able to apply what she's learning in the program to her current role. Particularly, she has noticed a big transition in her communications style and the way she works with others.
"I find that I'm able to apply the content in my current role because I do work in compliance and privacy, and I am a Digital Innovation and Information Systems major, so that helped me strengthen my skills and be able to assess my work in a different manner."