Carolyn Christian
Master's in Human Resources (MSHR) Online
20-year HR professional, nonprofit board VP and member
Northridge, CA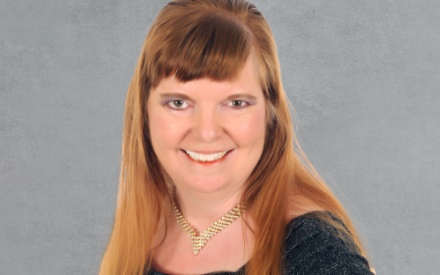 An 'Aha Moment' After a Layoff
Carolyn Christian holds master's degrees in cultural anthropology and social science, and has worked in human resources for nearly 20 years, with a specialty in building multicultural wellness programs within corporations. After a layoff, she realized that while she was very good at what she did, she lacked the business strategy skills that would make upper management see her value.
"I really wanted to be a more strategic partner in HR and that's what the Master of Science in Human Resources program is all about. And I knew that Pepperdine has a fantastic reputation."
HR As a Vital Part of Business
The fact that the MSHR program is offered by Pepperdine's Graziadio Business School was another reason Carolyn chose the program, since she has found that HR is not always given the respect it deserves in the corporate world.
"I never saw myself going to business school ever. This degree is sort of a cross between an MBA and a degree in HR, and positions HR as a vital part of business. That's been really important to me."
A Good Fit for a Night Owl
Since Carolyn is on the boards of three nonprofits, the flexibility of an online program appealed to her, as well as the time saved by not commuting to a campus. In addition, the option of doing the asynchronous classes on her own time was important to her.
"I'm a night owl. I like being able to get online and watch the lectures and really absorb the information at night when classes wouldn't normally be offered. That's my time when everything's quiet and I can focus."
Engaging with Faculty
Not only has Carolyn found it easy to access and engage with the program's faculty, she has had opportunities to work with them professionally. One of her professors was so impressed with Carolyn's nonprofit work that she joined one of her boards. And as part of an E2C project, Carolyn presented alongside two of her professors at a statewide nonprofit conference about change management consulting.
"Being able to have that interaction with the professors and present at a conference with them was a really great experience."