Counselor vs. Psychologist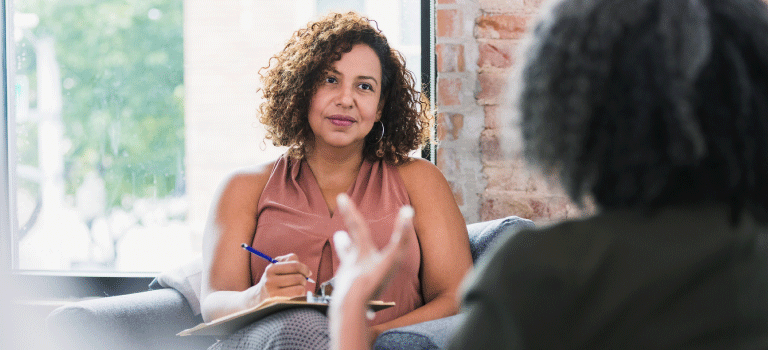 Counselors and psychologists both play significant roles in mental health support systems across communities. However, they share a number of differences in education, qualifications and scope of practice. When deciding if you're best suited to become a counselor or psychologist, it's important to familiarize yourself with the skills and expertise required for each position.
What Is the Difference Between a Counselor and a Psychologist?
The difference between a counselor and a psychologist is rooted in how they approach mental health care. Counselors place an emphasis on prevention. They tend to work with specific populations, such as the elderly or college students. Counselors employ therapeutic techniques to help these clients avert and cope with mental and emotional health challenges, according to the National Alliance on Mental Illness. They may also help individuals work through issues such as substance abuse, family and marital problems, stress management, self-esteem and aging.
But psychologists are more specialized. According to the Bureau of Labor Statistics (BLS), they assess, evaluate and treat emotional and behavioral disorders through psychotherapy and analysis.
What Is a Psychologist?
What is a psychologist and what does a psychologist do? When considering these questions, it's important to recognize that a psychologist's work is diversified across areas of research, psychotherapy, treatment, and diagnosis and testing. Psychologists' responsibilities include:
conducting scientific studies of behavior and brain function and observing clients
identifying behavioral or emotional patterns or disorders that can better predict behavior
discussing treatment with clients
writing articles or research papers that educate others
A psychologist typically evaluates behavior through controlled laboratory experiments, psychoanalysis or psychotherapy. When assessing patterns of behavior, they research and test theories using scientific methods. They also may administer tests based on personality, aptitude, or intelligence. There are different types of psychologists, ranging from industrial-organizational to clinical to forensic psychologists. They treat short-term and long-term conditions, but they focus on how feelings, thoughts, and emotions influence behavior and are able to assess that through psychoanalysis.
What Is a Counselor?
The work of counselors, on the other hand, is focused less on research, methodology, testing, and diagnoses, and more on building relationships with clients and helping to create an equitable and inclusive environment. As explained in the American Mental Health Counselors Association's Standards for Practice [PDF,680 KB], a counselor provides "professional counseling services involving the application of principles of psychotherapy, human development, learning theory, group dynamics, and the etiology of mental illness and dysfunctional behavior."
A counselor treats the mental health of individuals or families, typically focusing on managing daily life stressors, crisis intervention, and relationship problems. They serve clients with mental health conditions such as anxiety, depression, grief, low self-esteem, stress, and suicidal ideation through talk therapy. They often are well-versed in multicultural and diversity issues as well as human development from early childhood to adulthood, sometimes specializing in certain populations. Many mental health counselors work in inpatient or outpatient mental health and substance abuse centers, individual and family services, hospitals and government. While understanding human behavior is integral to the profession, counselors typically do not carry out diagnostic testing or psychoanalytical evaluations. Keep this in mind when considering the question, What does a counselor do?
Education Requirements
When deciding whether to pursue the career path of a counselor or psychologist, take time to learn the education requirements for each role. The difference between counselor and psychologist lies in education, skills, training, and licensure. In short, most clinical, counseling, and research psychologists require a minimum of a doctoral degree. Most doctoral degree programs take five to seven years to complete. For licensed professional counselors, they must have a master's degree in counseling or school counseling, which can take two to three years of study.
Psychologist Education Requirements
What education is needed to become a psychologist? Generally, the journey begins with earning a bachelor's degree in psychology or a similar field. Aspiring psychologists complete a master's degree in psychology as well, which can take one to two years to complete. According to the APA, most psychology master's programs require either a bachelor's degree in psychology or in a similar field, but with significant experience in undergraduate psychology coursework (usually either the equivalent of a major or minor). Students may also need laboratory experience in the classroom and research experience. Some programs may require an interview. It's important to consider how to tailor your experience to fit psychologist education requirements for the graduate program.
Pepperdine Graduate School of Education and Psychology offers online psychology master's degree programs as well as in-person psychology master's programs. Both enable candidates to develop a deep understanding of human behavior and psychological principles while honing skills relevant for a psychology career.
According to the BLS, most states require clinical, counseling and research psychologists to obtain a doctoral degree in psychology to become licensed. The doctoral degree in psychology comes in two forms: a PhD in psychology and a Doctor of Psychology (PsyD). The PhD is a research degree that generally requires a comprehensive exam, a one-year internship, and a written dissertation. The PsyD is a clinical degree. Some key competencies professionals can develop in either program include analytical, communication, interpersonal, and observational skills. Pepperdine GSEP offers an on-campus PsyD program to those looking to hone such competencies. The four-year program prepares candidates to become licensed psychologists through a rigorous curriculum that combines academics, clinical training, and research.
Counseling Education Requirements
When considering what education is needed to become a counselor, aspiring professionals can map out multiple steps, including enrolling in a graduate program and acquiring field experience via a practicum, internship and postgraduate work. According to the Council for Accreditation of Counseling and Related Educational Programs (CACREP), the master's degree is considered the entry degree for practice as a professional counselor.
Sample graduate coursework may cover the following content areas:
human growth and development theories in counseling
social and cultural foundations in counseling
helping relationships in counseling
group counseling theories and processes
career counseling and lifestyle development
research and program evaluation
professional orientation to counseling
Depending on the program, enrollment status, and state requirements, counselor education can take two to three years to complete. Some individuals then pursue a doctoral degree in counseling.
Certification
One key difference between counselor and psychologist is certification and licensure requirements. When deciding between a counseling or psychology career, note that psychologists require more education, some supervised experience, internship hours and an exam to achieve licensure in most states. Counselors generally require a minimum of a master's degree in counseling, internship hours, supervised counseling experience, and a passing score on a national exam.
Both counselors and psychologists require certification and/or licensure issued by state boards to practice their profession. The time it takes to acquire a license varies, as each state has its own requirements.
Psychologist Licensure
To pursue psychologist licensure, you must meet the education requirements—typically a minimum of a doctoral degree in psychology from a regionally accredited college or university program. You'll also need to accrue 2,000 hours during an internship and 2,000 hours of supervised postdoctoral experience to meet state requirements, which vary by jurisdiction.
When gathering information about your work experience, you should document the number of clients you worked with, the types of problems treated, proof of relevant coursework, and your professors' names and degree titles.
Then, you must pass the Examination for Professional Practice in Psychology (EPPP), which is administered by the Association of State and Provincial Psychology Boards (ASPPB). The EPPP is a multiple-choice test on the core areas of psychology with 225 questions. Although each state determines their passing scores for the EPPP, the minimum passing score for most states is at least a 70 percent or 500 on the computer-based exams. The ASPPB recommends taking the EPPP as soon as you complete your degree. Some states may require a competency-based test or test of ethics, or a jurisprudence exam.
Counseling Certification
Counselor certification is administered by the National Board for Certified Counselors (NBCC). The National Certified Counselor (NCC) certification may help you advance in your career. When you obtain board certification, it provides credibility to the public and employers that you have met the necessary standards and requirements for education, training, ethics, and experience. After you have completed your certification, you can work toward finding opportunities to grow in the counseling profession and continue your professional development. According to the NCC, eligibility requirements to obtain certification include completing a master's degree in counseling, accruing 3,000 hours of postgraduate counseling work and documenting 100 hours of postgraduate counseling supervision. You must also pass the National Counselor Examination (NCE) or the National Clinical Mental Health Counseling Examination (NCMHCE).
This is different from state licensure, which is legal permission from your state government to practice as a licensed counselor. Prior to becoming a fully licensed counselor, you will need to obtain an initial license. This allows you to be supervised by a licensed independent practitioner in postgraduate practice and can be thought of as a temporary professional license. The name of the initial license will vary by state, but can include:
associate licensed counselor
licensed professional counselor candidate
registered mental health counselor intern
Please note that this list is not exhaustive. After obtaining the initial license, graduates will need to take additional steps to earn their independent practice license, typically including completion of a specific number of hours under the supervision of a licensed independent practitioner, though counseling licensure requirements will vary by state. State licensure provides the following titles for individuals practicing independently:
licensed professional counselor (LPC)
licensed mental health counselor (LMHC)
licensed clinical professional counselor (LCPC)
licensed professional clinical counselor (LPCC)
Please note that this list is not exhaustive and may differ depending on state regulatory boards. Individual state requirements will vary and are subject to change, including licensure standards, exam eligibility, and appropriate pathways, and may differ based on individual student backgrounds. Students should do their due diligence and determine the appropriate pathway and license type for themselves.
Job Scope
Another difference between counselor and psychologist is job scope. Though the two professionals share some similarities like the populations they work with, counselors and psychologists carry out different tasks.
Counselors work holistically, approaching both general mental health and specific issues within mental health, such as addiction and substance abuse. They aim to improve overall mental wellness on a day-to-day basis by providing coping strategies. Psychologists tend to be more specialized and treat a specific issue, such as an emotional or behavioral disorder, and work from a scientific perspective. They may collaborate with other healthcare or medical professionals, consulting them about research and findings. Both work in intervention and treatment, albeit in different ways.
Psychologist Scope of Practice
Psychologists communicate behavioral issues and help patients make decisions about their mental healthcare. Their scope of practice is multidisciplinary and focused on human interaction and mental health examinations. It also includes direct service delivery, enhancing communication with patients and observing behavioral change in terms of symptom or disease prevention. Psychologists provide mental and behavioral healthcare to individuals and families spanning various cultural, ethnic, and socioeconomic identities, according to the APA. When their clients are having trouble adjusting to intellectual, emotional, social, or behavioral issues, they help them work through the problems with behavioral assessments, diagnostic interviewing, administering psychologist tests, clinical services intervention, and emergency evaluation.
Other psychologist responsibilities may include consultation with other healthcare professionals. Together, they develop and perform services in health promotion, disease prevention, behavioral medicine, end-of-life care and care for patients with chronic conditions. In most states, a psychologist cannot prescribe medication. But they can consult with psychiatrists and other medical professionals on treatment plans regarding medication.
Counseling Scope of Practice
Counselors apply interventions and talk therapy techniques to help people work through their mental and emotional health experiences, including personal growth and adjustment to life stressors. Their scope of practice is rooted in holistic wellness counseling for improving mental health, but it is not clinical. They do not administer personality tests, IQ tests, or neuropsychological tests.
Can a counselor prescribe medication? No, only psychiatrists can prescribe medication. Counselors are trained in behavioral and emotional health, but they cannot assess or conduct testing on behavioral or mental health disorders. Counselor responsibilities include listening to clients, developing treatment plans, and creating coping strategies to help manage daily life. Counselors are much more involved with day-to-day issues and helping clients shift their cognitive thinking to a healthier view. They often work with individuals as well as specific communities, examining issues such as bullying, anger management, depression, relationships, LGBTQ isues, and self-image.
Should You Become a Counselor or Psychologist?
When determining the weight and importance of counselor vs. psychologist, consider which profession works best for your skill set, expertise, educational qualifications, and professional experience. While counselors are focused on general therapy that may apply psychologists' research, psychologists are more focused on evaluation within the field and they provide interventions for clients with specific disorders through diagnostic test administration, consultation with healthcare professionals and research.
Both have different educational requirements, but still focus on gaining professional work experience in the field that applies their education to real-life situations. The difference between counselor and psychologist lies in their unique approach to preserving and improving mental well-being. Ultimately, both share the same goal of helping people understand their behavior and emotions while strategizing to find practical solutions to promote emotional wellness.