Ageism: The Subject of Protests, Legislation and Turbulence in Hollywood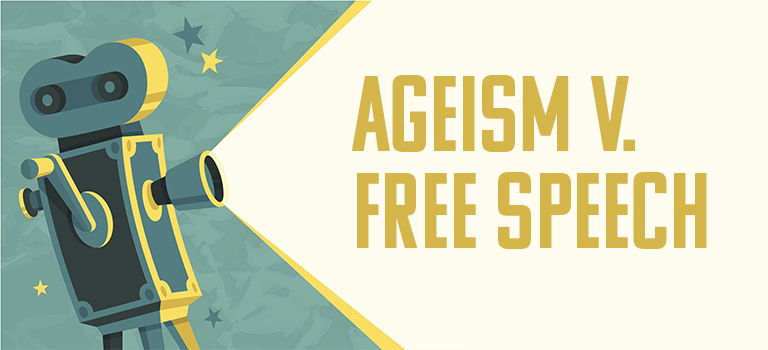 Junie Hoang had big dreams of making it in Hollywood as an actress.
"All I ever wanted to do was act. I finally did [move to Hollywood], and I was so excited," Hoang said.
She started getting small roles, and it felt like things were moving in the right direction. Then she found out that the popular entertainment database, IMDb, had accessed Hoang's account information and posted her birthday on her profile.
"I was so angry. Not only had my privacy been violated, but their posting of my age could have certainly led to age discrimination in casting," Hoang said.
In 2011, after several failed attempts of contacting a representative at IMDb to take down her age, Hoang filed a lawsuit against IMDb and its parent company Amazon. She eventually would lose the lawsuit, but new legislation could help protect actresses like Hoang should it be upheld. Still, it won't be enacted without a fight.
California vs. IMDb
In 2016, the California legislature passed State Assembly Bill No. 1687 barring subscriber-based "commercial online entertainment employment providers" from publishing an actor's age. AB 1687 had one target in mind: IMDbPro. The bill focused on entertainment database sites that allow paid subscribers to post résumés, headshots and other information for prospective employers. If an actor wants their age taken down, the law would require sites like IMDb to honor that request.
Lawmakers felt this law was pivotal. Majority Leader Ian Calderon, D-Whittier, for example, noted that even though age discrimination is illegal on state and legal grounds, "age discrimination persists in the entertainment industry." He added that "AB 1687 provides the necessary tools to remove age information from online profiles on employment referral websites to help prevent this type of discrimination."
In an effort to fight back, IMDb sued the state of California, claiming that their First Amendment rights had been violated. Federal district judge Vince Chhabria agreed, and this past January he granted an injunction to block the implementation of the law stating that the government wanted to "restrict speech first and ask questions later."
The Basis of AB 1687
But there are valid reasons why the law was initially passed.
"Everyone has known for a long time that in Hollywood — especially women in Hollywood — age discrimination is common," said Victoria Schwartz, professor at Pepperdine School of Law, who specializes in discrimination and entertainment law.
The main problem is that it's hard to prove. Schwartz noted that if you're over the age of 40 you're not protected by the federal anti-age discrimination law.
This, Hoang says, is why special protections should be given to people in the entertainment industry. Why? If a casting director knows an actor's real age, they may not offer roles that the actor would otherwise be given.
Knowing an actor's real age can also affect audience perception of an actor in a movie. "If someone watching a movie or show knows your real age, they may think you're not as believable as that character," Hoang noted.
These reasons alone aren't enough to uphold the law, said First Amendment lawyer Allan Gelbard. He noted that judge Chhabria found the law to be a content-based restriction on speech, making it unconstitutional.
What is protected under law is the very information that IMDb chooses to publish on its website.
"One of the prices we pay for freedom is that people can publish lawfully acquired truthful facts, and unless they fit into one of the unprotected classes of speech (e.g., defamation) it's protected," Gelbard said.
A Potential Threat
Krista L. Baughman, Esq., who also specializes in first amendment law, sees AB 1687 as a potential threat to the First Amendment should it be upheld. "The chances of the law being upheld appears small at this point, in light of the government's inability to date to articulate why AB 1687 is narrowly tailored to achieve the stated goal [preventing age discrimination against actors]."
But if it were upheld, it "…would threaten the First Amendment to the extent that it would create an exception to our long-standing jurisprudence generally prohibiting content-based restrictions of noncommercial speech," Baughman said. As with any precedent, this could be used in future cases to expand the exception beyond age-related content.
Individual Protection
While the law is in flux and the constitutionality of it remains in question, there are other ways that actors can protect themselves from age discrimination according to Schwartz. This can also apply to everyday citizens.
"Guarding yourself on social media is really important, and being careful about what you post about yourself is important," Schwartz said. She also suggests removing photos from resumes while job hunting. This, however, does not fully protect someone from age discrimination. Employers can easily look at a resume and see how long someone has been working or gauge someone's age by knowing the year someone graduated from high school or college, Schwartz said.
Even then, if someone is a victim of age discrimination, it can be difficult to substantiate. "Yes, you're legally protected from age discrimination, but it's hard to prove the cases. That is really the hardest part," according to Schwartz.
The problem of age discrimination is still there, so the worst thing to do is to stop fighting.
This was true for Hoang who was unable to prove that she experienced age discrimination when her age was revealed. Hoang argues that this is not a matter of First Amendment rights, but rather about commercial speech, which is speech done with the intent to make a profit for a company or individual. Until then, Hoang does not believe the legal world or others who don't work in the entertainment industry will fully understand what an actor's work entails.
"People who are in the business world are seen as real professionals. But when actors talk about not wanting their age posted, people will say they're just whining. They don't really have a real job.'" This mindset, Hoang said, makes it harder for people to take actors' concerns about age discrimination seriously.
But, she feels encouraged by legislators arguing to keep actors real ages private. "Even though I lost my case, I'm very happy that the California legislators moved forward with the law because it keeps the fight going. The problem of age discrimination is still there, so the worst thing to do is to stop fighting."
As the fight continues, Schwartz believes publications should practice prudence by only including an actor's age when it's pertinent to story. "Maybe it's relevant in the context of a story that says Janet Jackson had a baby at age 45. But when writing about someone going to the grocery store and adding their age? Publications need to ask themselves, 'Why is that relevant?'"
Citation for this content: Pepperdine Law's Online Master of Legal Studies Program