Earn Your Master's in Management and Leadership (MSML) Online from Pepperdine University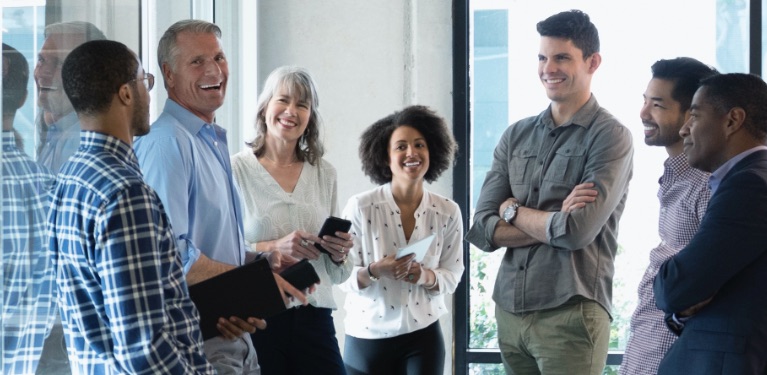 Lead Highly Effective Teams Across Industries
In times of change, growth, and disruption, businesses turn to leaders who understand how to unify teams and strategically solve problems.
The online Master of Science in Management and Leadership program from Pepperdine's Graziadio Business School empowers you to influence meaningful change across large-scale companies, not-for-profit institutions, and cutting-edge start-ups.
Complete in as
Few as 12 Months
No GMAT/GRE
Required for Admission

Accredited by the prestigious AACSB International—the Association to Advance Collegiate Schools of Business—the Graziadio Business School has a long-standing tradition of producing values-centered leaders driven by personal integrity, compassion, and holistic thinking.
Admissions
At Pepperdine Graziadio Business School, we seek diverse and driven individuals who can help strengthen our community of caring professionals. Our online master's in management and leadership program is ideal for those who have some management experience and wish to sharpen their interpersonal and core leadership skills in order to improve their organization and the world around them.
A bachelor's degree is required to apply.
GRE or GMAT scores are not required.
A minimum of two years of work experience is recommended.
Learn more on the Online Application Requirements page.
Application Deadlines
Applications are now being accepted for the following start dates:
Upcoming Cohort Deadlines
| Classes Start | Early Priority Deadline | Priority Deadline | Final Deadline |
| --- | --- | --- | --- |
| Monday, August 29, 2022 | Friday, May 13, 2022 | Friday, June 3, 2022 | Friday, July 1, 2022 |
| Tuesday, January 3, 2023 | Friday, September 16, 2022 | Friday, October 7, 2022 | Friday, November 4, 2022 |
Tuition and Financial Aid
Tuition for the 2021–2022 academic year is $1,900 per credit unit. The online Master of Science in Management and Leadership program is 36 units. Additional fees can be expected each semester, including travel and accommodations for one required on-campus immersion.
To help fund your graduate education, you may be eligible for federal financial aid. For more information about tuition financing options for the MS in Management and Leadership program, visit our Tuition and Financial Aid page.
Build the Specialized Skills Modern Leaders Need
Learn to empower your team, your organization, and yourself to reach your highest potential with an online master's in management from Pepperdine University.
Access Your Application
Now is the time. Advance your career with Pepperdine. Take the next step today.
A Curriculum Focused on Managing in Times of Change
The 36-unit curriculum in our online leadership-focused master's program is designed to help you manage change at all levels of your organization. You will build essential expertise in areas such as self-awareness, group dynamics, project management, organization and work design, and team and organizational culture.
At Graziadio, we believe that management is not static and learning cannot be limited to the classroom. Our courses will push you to seek out and access mentorship opportunities and hone your soft skills in real-world business settings.
View courses and course descriptions.
Course Sequences
The MS in Management and Leadership program gives you the flexibility to earn your degree at a pace that aligns with your personal and professional commitments. The program can be completed in as few as:
12 months on an accelerated schedule
16 months full time
24 months part time
Curious to know what your schedule might look like? Check out our sample course sequence options (PDF).
Immersions
As a student, you will attend one immersion in Los Angeles during the first term of the program, and one online immersion during the last term. Immersions allow you to meet fellow students, professors, and industry leaders. In addition to networking, immersions feature hands-on workshops, individual coaching, and live case learning.
Community-Focused Capstone
Nonprofit organizations are looking for experienced talent that can provide fresh thinking to address complex organizational issues. The Education to Community (E2C) capstone gives you the opportunity to fill that need. Working in small teams under faculty supervision, you will gain experience addressing a nonprofit's opportunities and challenges while helping the organization achieve its mission-driven goals.
Distinguished Faculty
Pepperdine faculty are accomplished, award-winning leaders who have experience managing and improving multifunctional teams for companies like Boeing and Procter & Gamble. Our 13:1 student-faculty ratio means your professors can take the time to truly get to know you, mentor you, and support your professional and personal growth.
Learn more about Graziadio Business School faculty on the Meet Our Faculty page.
Become a Leader Who Drives Real Results
Whether you are an experienced manager looking to hone new skills or an individual contributor ready to step into a role as a team leader, take the next step by requesting more information about the online MS in Management and Leadership program now.
Access Your Application
Now is the time. Advance your career with Pepperdine. Take the next step today.
The Benefits of Earning a Master's in Management and Leadership
Succeeding as a leader in today's hyper-connected business world means being able to unify teams toward strategic goals and inspire others to make the most of their inherent talents. From organizational thinking to managing culture and teams, a specialized degree in management and leadership will prepare you to drive better outcomes for your organization.
Job Outlook for Specialized Leadership Master's Graduates
In a recruitment survey from the Graduate Management Council, the majority of Fortune 100, Fortune 500, and publicly traded companies indicated an interest in hiring candidates with a master's in management in 2018.1 That same report indicated increased demand for management master's graduates in sectors such as consulting, finance, healthcare, technology, manufacturing, services, and government.
Career Paths for Management Master's Graduates
A leadership-focused master's degree can prepare you to advance within your organization as a manager of people, or take on new roles helping organizations better utilize their resources. In as little as one year, MS in Management and Leadership graduates may be ready for roles such as:
Leadership positions—Directors, VPs, C-suite employees, entrepreneurs
Management positions—Team managers, department managers, project managers
Supervisory positions—Business strategists, consultants
California Roots. Global Reach.
The network you gain is as important as the skills you learn. When you choose Pepperdine, you join a diverse community of 40,000 students, faculty, and alumni around the globe who are thinking boldly about business while leading with purpose.
Take the next step today toward earning a specialized business master's degree from Pepperdine University—named a top-50 national university in 2021.2
Access Your Application
Now is the time. Advance your career with Pepperdine. Take the next step today.