Pepperdine Master of Laws (LLM) in Dispute Resolution | Online
Pepperdine Master of Laws (LLM) in Dispute Resolution | Online
Pepperdine Master of Laws (LLM) in Dispute Resolution | Online
Become a driving force in solving today's most pressing conflicts with Pepperdine Caruso School of Law's top-ranked Straus Institute.1 Become a driving force in solving today's most pressing conflicts with Pepperdine Caruso School of Law's top-ranked Straus Institute.1 Become a driving force in solving today's most pressing conflicts with Pepperdine Caruso School of Law's top-ranked Straus Institute.1
GRE/GMAT Scores Not Required — Test scores are not required to apply. A JD or first professional degree in law is required.
12-Month Program Option — Choose a full-time (12-month) or part-time (24-month) track.
One of the Best in the West — Pursue a legal education rooted in purpose, service, and leadership at a university ranked as one of Forbes' top-50 universities in the west.2
Join a Community Dedicated to Ethical Leadership and Legal Excellence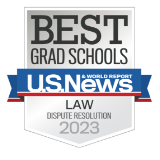 Ranked #1 Best Dispute Resolution Program by U.S. News & World Report
Propel Your Law Career Forward
Delivered by our top-ranked Straus Institute for Dispute Resolution, our highly regarded LLM program helps you develop the skills you need to become an effective mediator, problem solver, and arbitrator.6 The online LLM in Dispute Resolution program prepares lawyers across the globe to effectively solve conflicts among people, organizations, and even nations. Structured with a balance of theory and real-world practice, the program provides in-depth knowledge of the root causes of conflict, both on an individual and global level.
Benefit from live online classes and interactive course work.
Customize your experience with a variety of electives.
Learn from the same faculty who teach on campus.
As a student, you will gain hands-on experience with alternative dispute resolution methods through mock trials, externships, and two weekend residencies on Pepperdine's Malibu campus. Residencies enable you to practice skills and network with peers, faculty, and legal experts. Upon completion of the program, you will have the mediation and arbitration expertise you need to be a better advocate for your clients and to positively affect change in your community and the world at large.
Expand Your Dispute Resolution Expertise
1U.S. News & World Report, 2022 Best Dispute Resolution Programs. (visited September 2021).arrow_upwardReturn to footnote reference
2Forbes. Visited March 2023arrow_upwardReturn to footnote reference
3Adam Bonica (Stanford), Adam Chilton (Chicago), Kyle Rozema (Northwestern) & Maya Sen (Harvard), The Legal Academy's Ideological Uniformity, 47 J. Legal Stud. 1 (2018)arrow_upwardReturn to footnote reference
4U.S. News & World Report, 2022 Best Dispute Resolution Programs. (visited September 2021).arrow_upwardReturn to footnote reference
5U.S. News & World Report, 2023 Best Law Schools. (visited March 2023).arrow_upwardReturn to footnote reference
6U.S. News & World Report, 2022 Best Dispute Resolution Programs. (visited September 2021).arrow_upwardReturn to footnote reference