MS in Management and Leadership Curriculum
The online MS in Management and Leadership (MSML) curriculum at Pepperdine Graziadio Business School is designed to help you manage change at all levels of your organization. The curriculum will prepare you to build essential expertise in areas including group dynamics, project management, organization and work design, and team and organizational culture.
The MSML program gives you the flexibility to earn your degree at a pace that aligns with your personal and professional commitments. The program can be completed in as little as one year on an accelerated schedule or 24 months part time. Check out our sample course sequence options. (PDF)
Immersion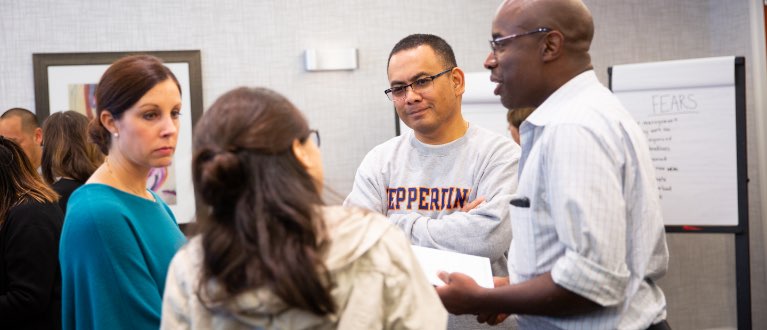 During your time in the program, you will attend one immersion in Los Angeles and one online immersion.
Personal and Leadership Development Workshop (BSCI 650) — 1 unit
This workshop serves as an orientation to the experiential and team-based models of learning used at Graziadio. You will engage in exercises that enhance communication, ethical decision-making, career development, and the relevant soft skills for interpersonal effectiveness in business.
Management and Leadership Capstone (OTMT 679) — 2 units
In the Education to Community (E2C) Capstone Project, you will have the opportunity to work with a nonprofit organization, applying theories, frameworks, and learning from across the MSML program. You will be tasked with developing a professional leadership development plan that not only showcases your ability to think strategically but also creates real change for an organization in need.
You are required to complete two immersions. The first immersion will take place during your first term in the program. Immersions will be held over a weekend within the first three weeks of the start of your term.
Global Learning Opportunities
The Pepperdine Graziadio Business School gives students the unique opportunity to expand their business savvy abroad. Students who choose to join us for a one-week global intensive can expect a combination of collaborative learning, immersive course work, and enriching cultural experiences.
The global intensive is optional and can be taken as an elective for academic credit. Students will need to pay for their flight, as well as a program fee that covers room and board, most meals, and all planned academic and cultural activities during the week.
Courses
Click each course name to view a course description.